Our Dixie Cassoulet was So. Dang. Good.
My husband just confirmed this by reminiscing about Friday's meal with a glazed look of a smitten man. He told me that he's so excited because we get to have leftover cassoulet for dinner all week. If you have ever had cassoulet then you know that the only thing better than cassoulet is leftover cassoulet.
My camera has bitten the dust so the pics are via my phone. The thing is, cassoulet has a face only a mother could love anyway, so it's really just fine. I didn't get a pic of the completed, crusted cassoulet either. Boo, so I borrowed one from Food52. I very was busy serving and my good friend Lynn decided to bring an organic cucumber vodka for our before dinner cocktail, so by dinner time I was a
very relaxed
.
My sweet husband built me my dream dining table!
We started the meal with a simple chicory salad with a vibrant dijon vinaigrette and a bit of shaved Kerrygold cheddar. It was nice and tangy and got the juices flowing for the cassoulet. I was able to use my beloved earthenware cassoulet server (that I scored at Habitat for Humanity ReStore for $3-new!) and serve on our new farm table that my husband built for me for Christmas. The vibe was so right and it felt as though we were transported to a French country home. Food can do that for me, take me places.
Beautiful chicory for the salad
The cassoulet was wonderful. We broke through the garlicy breadcrumbs and through to steamy beans that was studded with the most delectable chunks of garlic sausage, confit, pork ribs. I served a small ramekin of the confit "butter" on the side to drizzle a top, or dip some fresh bread. I absolutely adored the black eyed peas as a white bean substitute! The dish was still so creamy but the black eyed peas had a nice, teeny tiny bite to them that I really loved.
Our dessert was slated to be Chocolate Pecan Pie but after a polling of my friends and considering my Dad's diabetes, I chose a lower sugar dessert. Ms. Dupree's Caramel Cream Pecan Crust Pie (pgs. 527 & 514) was INSANE. A short crust of pecans, flour, butter, and a bit of sugar are pulsed into a dough, pressed into a pie pan with a removable bottom and baked. The filling is like a panna cotta-gelatin is bloomed in warm cream, a caramel is made and mixed into cream and poured into the shell and cooled. The crust recipe alone is worth running to buy
Mastering the Art of Southern Cooking
right now! I did have to bake a little longer than suggested, but my oven is bi polar. I cut back a bit on the sugar in the crust (for my Dad) and made a quick caramel sauce to drizzle over top for my other guests and myself. This one will have a post all it's own, it is THAT GOOD.
It was a night of stories and laughter and great food shared with people I love.
I certainly used Dixie Cassoulet from
Mastering the Art of Southern Cooking
as my template, but went a bit off with some extra additions. Here is the final recipe. Daunting as it may seem, each element is a meal in itself and holds beautifully until you are ready to assemble. I did make my ribs well in advance (four days ahead).
Ode to Dixie Cassoulet
Serves 10-15
Freezes perfectly. Feel free to divide the recipe into oven-ready vessels and freeze right in them! You can save the breadcrumb step for when you pull one from the freezer.
1 recipe simple beans (
Simple Beans
)
1 recipe confit chicken thighs from (
Confit on the Cheap (Cassoulet Pt. 1)
skin and bones removed, meat pulled into bite sized chunks
2 cups homemade stock, nice and strong (I made turkey stock from my leftover
Toikey!
)
2 cups white wine
2 Tablespoons tomato paste
1 1/2 lbs garlic sausage (I have successfully used expensive French style garlic sausage, Bangers from Whole Foods-awesome, and Boar's Head bratwurst in a pinch. All excellent!)
2 lbs. country style pork ribs*** I recommend preparing the ribs well in advance to save on time!
2 Tablespoons fresh parsley, chopped
5 cups panko breadcrumbs
3 cloves garlic
1/2 cup drippings/preserving fat from the confit
Preheat oven to 350 degrees.
Put the stock, wine and tomato paste in a large pot over medium high heat and dissolve the paste well. Let simmer 15 minutes. Remove from heat. Set aside.
Prick the sausages, put in a saute pan with touch of oil and brown well. Remove from pan, slice into bite sized chunks. Set aside.
***Season pork ribs well with salt & pepper. Sear in a hot pan with a bit of oil until golden on all sides. Place the ribs in a roasting pan with 3 cups of chicken or beef stock, cover with foil and roast until tender, about 1.5-2 hours. Let cool, remove from bones & cut into bite sized pieces.
This can be a great meal in itself! Double the amount of ribs (and liquid to braise). Set half aside for your cassoulet and douse the rest with your favorite bbq sauce (hoisin is excellent here as well!) and put back into a HOT oven (500 degrees) and let the ribs glaze well. You'll have dinner tonight and be ready to go for your cassoulet at you leisure.***
Browning the ribs
In a sauté pan add confit drippings/fat and garlic, sauté until softened. Remove from heat and stir in the panko. Add salt, pepper & fresh parsley. Set aside.


Third layer before the breadcrumbiness
Organize your assembly line: Beans, shredded confit, sliced sausages, stock mixture, and breadcrumbs. Grease a large vessel (6-8 qts) with a bit of the confit fat. Begin the layering process: beans, sliced sausage, confit, pork, a cup of the stock mixture. I did three layers and topped with half of the flavored bread crumbs. Place into the oven and bake uncovered until the crumbs really begin to crust and brown (about 30-45 minutes). Take a spoon and gently press the crumbs into the cassoulet. Cover with the remaining crumbs, dribble with a bit of the drippings and bake until golden (takes about 45 minutes). Whew! That is it. Oh my word, this is good.
Note: You can do the breadcrumb step as many times as you like. If your cassoulet is a bit too soupy for you, add another layer of crumbs and push away!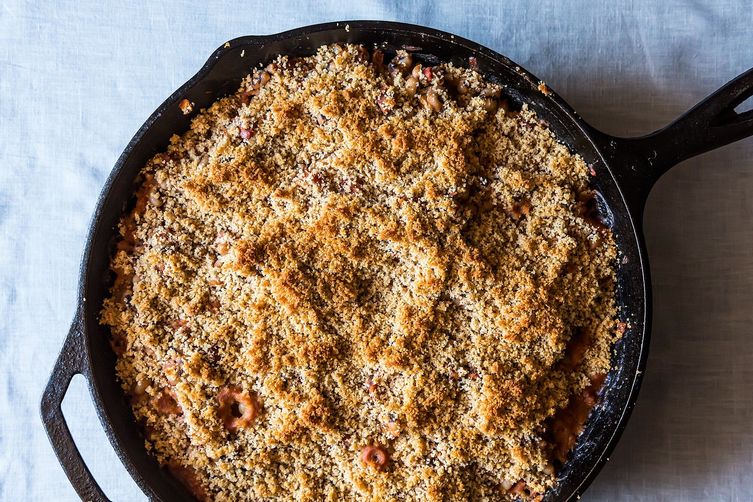 This mostly closely resembles our finished dish. Break on through.
Thanks for taking the cassoulet ride with me. Tonight is "the big game" (oh, I hate that name) and we are having chili. Simple. One pot. Yum! It doesn't always have to be a lengthy process. Sometimes it's just plain ole good eatin'.